If you like to choose your travel destinations according to food culture and great restaurants Estonia is probably not one of the first options to pop into your mind. But it should be!
Tallinn is a foodie's heaven! It's amazing how many incredibly high quality restaurants you can fit into such a small city. Honestly I could list almost every single restaurant I've visited here but I wanted to take a deeper look into each of these 5 amazing restaurants. So, here is my Top 5  favourite restaurants in Tallinn:
Rataskaevu 16
If you Google this place you'll immediately notice that the place has been voted the best restaurant in Tallinn year after year on Tripadvisor. And not without reason! Rataskaevu translates into 'gear well' meaning an ancient old well with a bucket at the end of a chain or a rope. Actually the whole street where the restaurant stands is called Rataskaevu and in the middle of the tiny square on this narrow street there is an ancient well. Rataskaevu 16 is the actual address of the restaurant and the owners didn't want to change it to ruin the place's authenticity.
I love old buildings with secret doors and weird holes in the walls with mysterious spaces behind them. And that might be one reason why I particularly like Rataskaevu 16 as a building; its rooms are tiny and tight but there are doorways that lead nowhere, huge dents in the walls and a floor made of glass with a big drop down in one of the bathrooms (I gotta admit, I couldn't step on the glass when I went to the bathroom).
I also love fairy tales and stories and Rataskevu happens to be at the center of one of the spooky stories of Tallinn: the owner of the house once let a stranger hold a wedding in the upstairs room but the wedding turned out to be none other's than the Devil's himself.
But enough of everything else. The main point obviously is the food! And oh lord, this place is a guarantee treat. Fresh, local ingredients, like moose, mixed with the chefs' amazing skill to use simple flavours and make them really special. You will always find something for everyone here; fish, steak, vegetarian. I have enjoyed the best vegetarian meal ever in this restaurant and even my friend thought my portion was better than her steak. You cannot go to this place without taking the ultimate, most amazing, heart-melting chocolate cake for dessert! Believe me, you need it.
Unfortunately this place is not disabled-friendly: the street is made out of big cobble stones and there are dilapidated stairs to climb before you get to the front door. Inside it's very cramped and there is no way you could fit into the bathroom with a wheelchair.
Kaks Kokka
This place is an absolute must if you like fine-dining! It can't really be categorized because their menus are influenced by different food cultures; for example you can find an Estonian herring dish next to a Chinese steamed bun dish. But even though it may sound a bit questionable quality-wise that a restaurant would mix different cultures like this on their menu I promise you, in this case it doesn't take anything away from the quality. The name 'Kaks Kokka' literally means Two Chefs and these two guys really know their stuff.
The restaurants interior design is very Scandinavian with simple lines and colours, and the huge windows bring just enough light and life in. I have had one of the most amazing food experiences in this restaurant: a duck salad doesn't sound very impressive but the taste and smell of the dish took me back to summers spent at our summer house so strongly that I could almost feel the green grass. Once-in-a-lifetime experience. So far.
The only minus point for this place is that they do not change their menu very often. Most restaurants here concentrate on seasonal flavours, which is why they put out a new menu 4 times a year whereas Kaks Kokka may have maximum 2 menus per year. The last time I ate there was August last year so the fact that they had the same menu now in April was a little bit disappointing… Thankfully the food never lets you down, though.
NOP
If you prefer organic, vegetarian food, Tallinn really is the place to be for you! The much-acclaimed Vegan Restaurant V is yet to be tested by me (reservation required!) but the café/restaurant NOP is a brilliant option if there is no space in V. NOP is a small, wooden building in the prosperous Kadriorg district just 10 minutes from the Old Town. The park-like area itself is already worth a visit but I strongly suggest that you pop into NOP while there.
I have basically been through the entire menu in this place. They offer breakfast and a main menu, and most of their dishes are vegetarian, a lot of them also vegan. Everything there screams the words 'fresh' and 'healthy'. My ultimate favourite there is the Estonian dark bread, spread with avocado, topped with cured salmon and poached eggs. The fish soup is also excellent, completely different than the regular fish soups around here. The only thing I have ever been disappointed with was their chai latte. I'm always on the hunt for the best chai latte (Urban House in Bratislava still holds the no.1 spot) and NOP didn't even qualify, due to too much bitterness.
Pull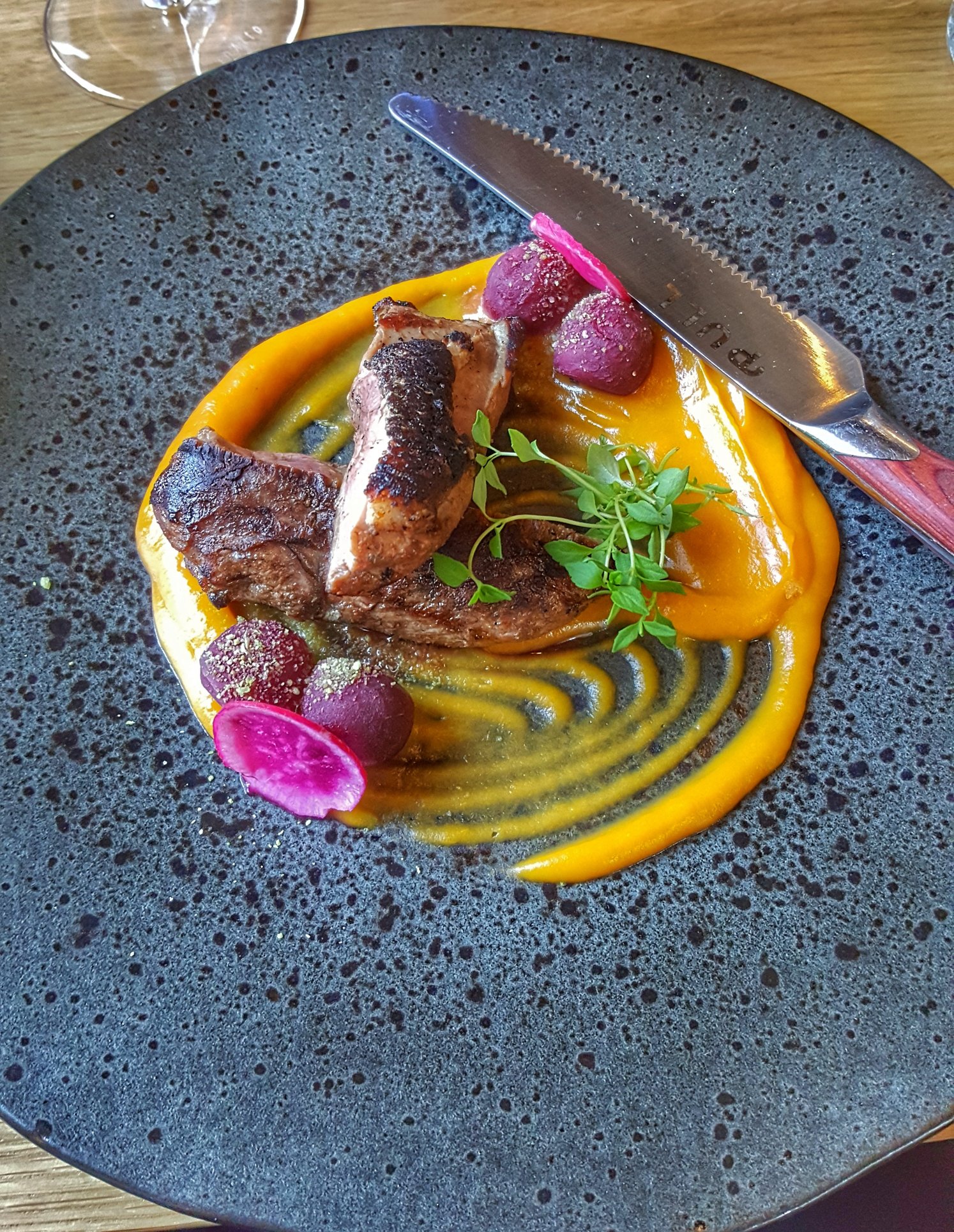 For meat lovers Tallinn offers a newcomer Pull, which specializes in big and proper steaks. You can also get duck, chicken and fish dishes here but I really recommend you go for a steak if you find yourself here. The restaurant is situated close to the harbor in the hip and cool Rotermanni area and it's interior is quite hard core; bare stone walls, thick-legged wooden tables and an open kitchen with huge furnace.
Duck is a dish that is easy to spoil but here I was very happy with my duck dish. Also the steaks I've eaten here have been excellent, no need to be scared to take your steak as medium minus because the meat is really high quality and prepared with care. I also suggest that you ask the waiters to suggest appropriate wine, I have never been disappointed.
NOA
NOA restaurant can be found just outside of Tallinn in Viimsi by the Baltic Sea. It is a beautiful 70's inspired one-floor building with a terrace and a most gorgeous view of the Tallinn coast line the Old Town popping up behind the harbor and the Sun setting into the Baltic Sea. The furnishing is very airy and quite Scandinavian with a lot of pastel-coloured pillows.
Their menu consists of very Estonian flavours, like elk, fish and vegetables, with some hints of Italy (try the tomato soup!) This is not a cheap option, like most of Tallinn's best restaurants are, but the quality of food and your surroundings make the visit here completely worth every cent.
It is a tradition that people visiting the restaurant take selfies and group photos outside on the beach patio, no matter what the weather is like. But who can blame them with a view like that! I call it a tradition because the two times I've been there pretty much every single guest went outside for a little photo shoot at some point. Us included.
It's been too long since I've visited NOA, almost a year. So I think it's time to plan another visit now that Spring is bringing the beautiful view back to life again.
+ The Telliskivi area is a great place to spend a relaxed summer day. It offers some of the most popular hipster restaurants in town, for example the Finns' favourite: F-Hoone. I have found the food in these hipster meccas to be a little bit too bland for my taste but nonetheless I recommend visiting the area, if just for cocktails and interesting architecture and vibe.